On our City Farm children can see, touch and help to care for small pets, poultry and some larger farm animals. They learn about nature and enjoy the responsibility of caring for animals. For many our farm is a sanctuary where they can enjoy quiet calmness, do purposeful work, and find common ground to start up conversations with new people.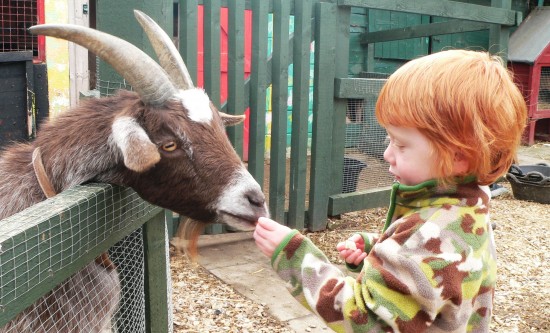 Our City Farm is a vital element of all of the services we run:
Toddler group – children aged 0-4 and their parents/carers visit the farm to feed, hold and pet the animals.
Preschool playgroups/eco sessions – children visit the farm regularly to learn about and help care for the animals.
Afterschool and holiday play sessions – with regular access to the farm, children can get to know the animals and help to care for and handle them.
Play support service – children with social, emotional and behavioural difficulties visit our farm for therapeutic and educational purposes.
Other ways to visit our city farm include:
One-off visit during playground sessions
Group or school visit
Birthday parties
Volunteering for animal care duties
New Ark is the only city farm in the Eastern Counties. We receive no Government funding and rely on donations to help us pay for food, bedding and veterinary care. Families may sponsor an animal and volunteer for farm duties. We also provide a limited holiday boarding service for small animals e.g. guinea pigs, rabbits, chickens.
Many of our animals were rescued from owners who could no longer care for them. We try to rehome some of them.