At New Ark there is something for all children aged from 0-16…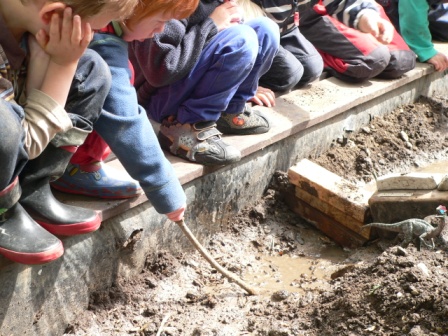 For school age children
Playground staff can meet children each day from the local Newark Hill school by prior arrangement with parents. Alongside adventure play activities – such as digging, building, ball games, swinging and climbing – we also provide a wide range of creative art and craft activities. The children also visit the City Farm and help to care for our animals. We can provide a simple tea of toast and fruit plus limited amounts of tuck.
As well as all the activities you can find in the afterschool sessions, we organise special activities including indoors and outdoors cooking, den-building, water slides and (extra) messy play. Holiday sessions run during all Peterborough LEA school holidays except for Christmas. During the summer holidays we run special forest school sessions in our Eco Centre.
During playground sessions we can welcome visitors who just want to pop in occasionally rather than fully registering with us.
This service is operated by specialist staff. Using all of New Ark's facilities, it provides support for individuals and small groups with social, emotional and behavioural difficulties. Children are referred by schools or parents.
For under 5s
For children aged from 0 – 4 and their parents/carers meeting term time Wednesdays. Here children learn to play together and explore our Eco Gardens and City Farm, under the guidance of our playworkers.
During school holidays families with under 5s can visit the adventure playground and city farm during our general holiday playground opening hours. Parents must supervise under 5s at all times. During termtime, families with under 5s can visit during our after school sessions.
Here, children aged from 2 years 9 months develop their learning and social skills through play. Playgroup is based in our main building and makes full use of the adventure playground and city farm facilities. Places are paid for by early education funding.
Eco babies
This group runs twice weekly in our Eco Centre during the summer term only and takes children aged from 2 years 9 months. It provides children born between April-August with an opportunity to become familiar with our staff and premises, before they start at our Preschool Playgroup in September.
For everyone
Open days
Occasionally we throw open our doors to all local families. Entry is by donation, and dates are advertised in advance and often linked to a special event or fundraising activity. Keep an eye on our Facebook page and blog posts for details.
Group visits
We can organise visits to our City Farm from schools and other children's groups, as well as adults with special needs. We can also visit your premises with our small animals to support a fundraising event in aid of New Ark – this is popular with residential homes and workplaces.
Birthday parties
Our premises are available at weekends for a birthday celebration which is suitable for toddlers to young teens. Your guests can feed and groom the animals on our City Farm, take part in a treasure hunt in our woodland garden, and explore our traditional adventure playground. Plus exclusive use of our main room to have some party food and play games. Download our birthday parties leaflet for more information.