WHAT'S ON
At New Ark there is something for everyone!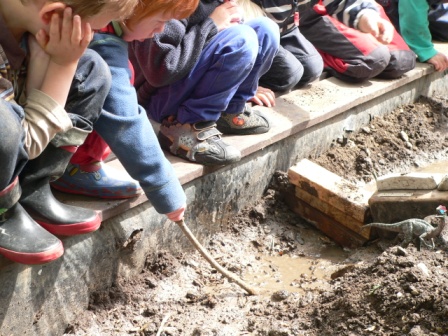 For under-fives
For children aged from 0–4 and their parents/carers, meeting term time on Wednesdays from 1-2.30pm. Here children learn to play together and explore our Eco Centre and City Farm under the guidance of our trained staff.
"Me and my girl love this place and staff is so wonderful…"
During school holidays families with under 5s can visit the Adventure Playground, and City Farm during our general holiday playground opening hours. Parents/carers must supervise under 5s at all times. During term time, families with under 5s can visit during our after school sessions.
"Love bringing my granddaughter to new ark she has so much fun. X"
Here, children aged from 2 years 9 months develop their learning and social skills through play. Our preschool is based in our main building and makes full use of the Adventure Playground, Eco Centre and City Farm facilities.
"Fantastic safe place for kids to play and learn !"
For school-age children
Playground staff can meet children each day from the local Newark Hill Primary Academy by prior arrangement with parents. Alongside adventure play activities – such as digging, building, ball games, swinging and climbing – we also provide a wide range of creative art and craft activities. The children also visit the City Farm and help to care for our animals. We can provide a simple tea of toast and fruit plus limited amounts of tuck.
"A Great place to learn and play. All kids in the area should get the chance to experience New Ark before they become teenagers."
"New Ark is a fab place where children play freely in a safe and imaginative way. It's not like any other play environment as children are encouraged to play in the open air and get as dirty as they want. There are trees to play under and hills to climb. Good old fashioned play is encouraged by fully trained staff. My children all went to New Ark and 40+ years later, Grandchildren and Great Grandchildren have all attended and love it. Long live New Ark Adventure Playground and City Farm."
As well as all the activities you can find in the afterschool sessions, we organise special activities including indoors and outdoors cooking, den-building, water slides and (extra) messy play. Holiday sessions run during all Peterborough LEA school holidays except for Christmas.
"So much variety for children an amazing place highly recommend it !"
"My children love New Ark as much as I did when I was a child! Being a full time working family New Ark is a complete lifesaver during the school holidays. I know the children are going to be safe and engaged while we are at work. The link to Newark Hill Academy is brilliant to as the kids get to see their school friends out of school hours."
Families are welcome to visit during holiday sessions and after school sessions. Parents/carers must supervise their own children.
"Took my 3 boys today for the first time age 10 months, 5 years and 8 years there was something for all of them they had a great time. Can't believe I've never heard of this place before, Came home filthy but that's part of it…. note to self next time put them in older clothes!"
This service is operated by specialist staff. Using all of New Ark's facilities, it provides support for individuals and small groups with social, emotional and behavioural difficulties. Children are referred by schools or parents.
For everyone
Open days
We love to organise family fun days throughout the year, often linked to a special event or fundraising activity. Keep an eye on our Facebook, Twitter and Instagram pages for information.
"Lovely staff, a friendly and great place to have a play."
Group visits
We can cater for visits to our City Farm from schools and other children's groups, as well as adults with special needs. We can also visit your premises with our small animals to support a fundraising event in aid of New Ark – this is popular with residential homes, schools and workplaces.
"Thank you Carolyn for our visit today with the preschool it was great fun and a lovely way to spend the morning. We will definitely be coming again with the new kiddies in the new term."
Birthday parties
Our premises are available at weekends for a birthday celebration which is suitable for toddlers to young teens. Your guests can feed and groom the animals on our City Farm, take part in a treasure hunt in our woodland garden, and explore our traditional adventure playground. Plus exclusive use of a room decorate and have some party food and play games. Download our birthday parties leaflet for more information.
"We have just come back from the adventure playground, having had a party for our Sons 3rd birthday. He and his friends had an absolute blast! Would massively recommend it, complete hidden gem. Thank you to all the staff, who couldn't do enough to make our experience enjoyable."
"My daughter thoroughly enjoyed her 10th birthday today! A big thank you to Carolyn and the other staff who dedicate their time looking after the animals and us. I would highly recommend for birthdays. Such a friendly, welcoming, warm lovely place."
"An amazing place to watch your children enjoy being outside and experience wonderful things. My 3 year old just had a birthday party here and it was brilliant"
"Brilliant for birthday party's, fun feeding and stroking the animals and playing on the adventure playground, thank you so much for everything x"
"Want to say a massive thank you for such an amazing experience. We booked New Ark for our daughters 3rd birthday and from start to finish they were fantastic. From Toddler to teen all commented what a fab time. Thank you x"
Adult Social Mornings
We provide a calm, caring and therapeutic space where adults who have vulnerabilities and/or additional needs can come and join us for a cuppa and a chat on the farm. They can interact with the animals and help care for them.
"New Ark is a truly wonderful place, not only for the animals who are lucky enough to find themselves there, but for everyone that spends any time there at all. It is a place where you can be 'yourself', whatever that 'self' might be. Therefore, those with learning difficulties, additional needs and mental health problems are welcomed, and they know that their contributions are valued, as is their company."
Volunteering, Enrichment Activity Placements & Animal Care Student Placements
Working at the farm gives young people and adults the opportunity to take part in purposeful, rewarding work as part of a team, towards a common goal. Through this work, volunteers can develop problem solving skills, and increased confidence and self-esteem from being able to work independently on tasks. The work can stimulate change in a person and help develop transferable skills. We can support placements for young people undertaking enrichment activities for Duke of Edinburgh and Princes Trust, as well as animal care students. There are volunteering opportunities to suit a variety of ages, abilities and availability.
"I have been volunteering at the farm for 7 years. I first came to the farm while I was at secondary school to learn about farm animals and how to look after them. While I was at college they arranged a placement for me at the farm and I have been there ever since. I have met so many people and made some friends. I love everything about working there."
"I enjoy my visits to New Ark farm, which brings structure to my week and gives me something to look forward to. Working as a volunteer means that I get to work with other volunteers and staff, and together we form a little community where we work together to get the tasks done, e.g. cleaning water tubes and topping up food bowls. My time at the farm has been like a journey. When I first came to the farm I could only stay for about half an hour. Now, as time as gone by I can stay for longer and longer periods of time. As a result of staying longer, I have more time do other tasks. Coming to the farm has given me confidence."
I attend New Ark three afternoons a week and I go with my Mum on Fridays in the evenings. Since attending New Ark I have become more confident and willing to ask more questions. Whilst I've been volunteering I've understood the importance of teamwork and how hard you have to work to fulfil the animals' needs.
"Originally I started volunteering at the city farm, along with my daughter who has a learning disability, in October 2019. I also got my husband involved and we have found the farm as a family to be not only good exercise, but also to be stress relieving. It can give you a real sense of satisfaction watching the various animals enjoy their surroundings, knowing that you have helped create it."
Animal Care Courses
We work with the local colleges to deliver animal care courses. Our delivery approach is tailored to the needs of the learners to ensure accessibility to all.