Our contact details are:
New Ark Play Association
Rear of Hill Close
Off Reeves Way
Peterborough
PE1 5LZ
Telephone: 01733 340605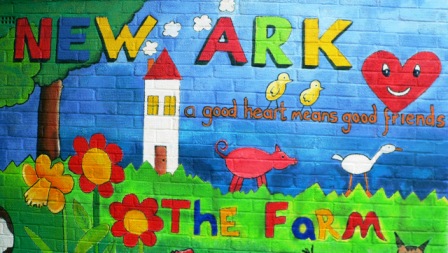 If you are coming to visit, then details of how to find us can be found here
How to find New Ark
You will find New Ark behind and to the left of the row of shops on Hill Close, at the junction of Reeves Way/Eastfield Road. It is close to Sainsbury's Oxney Road store and Newark Hill School. Our Play Support Service building is at the top of the slope in the old scout hut known as St Michael's. Our main building (Preschool and Playground) is the other side of the green at the bottom of the slight hill. The Eco Centre and City Farm are near the main building, through the gate to the right (once through the gate you turn right for the Eco Centre and left for the farm).
On foot take the footpath on the left of Hill Close shops, turning left and through our barrier at the top of the slight hill. The main playground and admin buildings are on the far side of the green towards your right. If walking from Parnwell or Sainsbury's, walk over the bridge across the parkway, then cross the parkway sliproad at the lights, and shortly after turn left down the footpath through trees to reach the green in front of New Ark.
Buses regularly run past us including the Citi4 (Hospital – City Centre – Parnwell) routes. Ask to get off at Hill Close shops.
Drivers need to head for Reeves Way at its junction with Eastfield Road where you will see a row of shops (Hill Close).
From Frank Perkins Parkway northbound, exit at juntion 7 and turn left at the top of the sliproad. Take the next left into Reeves Way.
From the Eye parkway roundabout take the A15 Paston Parkway and immediately exit onto Welland Estate. Turn left into Belvoir Way, then bear right at the junction into Eye Road. At the end of Eye Road at the traffic light junction, turn right into Eastfield Road then left into Reeves Way.
From the city centre, follow signs for Regional College/Eastfield which will bring you along Eastfield Road. Pass the college and cemetery on your left, and after Newark Hill School turn right into Reeves Way.
Parking is restricted in front of Hill Close shops. Behind the shops there are several spaces and also plenty of unrestricted parking on Reeves Way.