For more than 40 years the parents of Peterborough, together with professional play and support workers, have worked together to create the special place that is New Ark.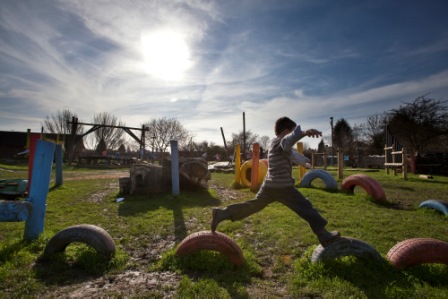 What is New Ark?
We are a place you can visit. We provide childcare, educational opportunities and community involvement. Our facilities include a traditional adventure playground, an eco garden and a city farm.
We are an independent charity – our main objective is to provide opportunities for outdoors adventurous play for children in and around Peterborough.
We are a volunteer-led organisation, run by a Management Council. Many are parents whose children play at New Ark; some are local businesspeople with valuable management skills. We are actively seeking new trustees who have enthusiasm for New Ark and/or business management skills.
About 100 volunteers help with all kinds of jobs in the Adventure Playground, Eco Centre and City Farm. We also have volunteers who help with admin and fundraising.
We employ professional playworkers and childcare workers, several of whom are Forest School trained.
We are registered with and inspected by Ofsted for our childcare and preschool services – our inspection reports can be found here: https://reports.ofsted.gov.uk/provider/16/256791
We keep charges to our users as low as possible and try to ensure that lack of money does not prevent children from enjoying our facilities. We are partially grant-aided by Peterborough City Council. We are also supported financially by grants, fund-raising events and appeals. We always need more help with fundraising. We are members of: Playlink, International Play Association, Early Education, National Federation of City Farms and Community Gardens, Peterborough Council for Voluntary Services, Learning Through Landscapes.
Officially we are called Newark Play Association Ltd, but everybody knows us as New Ark!