We provide a secure and unique range of facilities during our preschool playgroup sessions, including
Extensive grassed adventure playground with creative wooden structures
City farm with several different types of animals
Forest school where children can build dens, cook outdoors and explore amongst the trees.
At New Ark children can make, bake, rake, stack, splash, dig, climb, swing, jump, ride and slide. All the things children do best!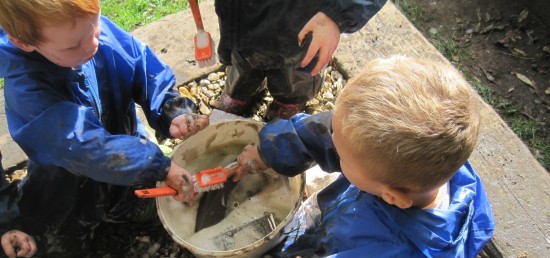 We are very proud of the positive feedback we receive from parents, many of whom were once New Ark children themselves.
In our 2013 report Ofsted said: "Children are very keen to learn in the rich and exciting playgroup, farm, adventure playground and eco centre that support them." [report can be found at www.ofsted.gov.uk – search for our reports using the URN 256791].
Please download our playgroup leaflet. It contains information on our session times, Government funded places, how we work, how to join our waiting list, and more
5 reasons to bring your child to New Ark playgroup
Staff – our Playgroup Leaders believe in providing a caring environment that nurtures the individual needs of young children. They have over 70 years of experience with pre-schoolers.
Space – we have fantastic play areas to run around in, including one of the largest adventure playgrounds in the region.
City Farm – every child is given the opportunity to feed and care for our animals in our City Farm.
Eco-Centre – every child enjoys sessions in our wooded area, where Forest School trained staff teach them outdoor skills and help develop an appreciation of ecology and the outdoor environment.
Recognition – the imaginative work of New Ark's staff has been recognised by both parents and Ofsted time and time again.