We love to play!
Play is a child's natural way of learning…
Play makes life exciting, interesting and fun…
Play is at the heart of everything we do at New Ark..
New Ark is a special place where children of all ages are encouraged to play in ways that are creative, adventurous and explore the world.
Welcoming children since 1981, we provide a secure and unique range of facilities during playgroup sessions including an extensive grassed Adventure Playground with creative wooden structures, a City Farm with several different types of animals and an Eco Centre where children can build dens, cook outdoors and explore amongst the trees.
At New Ark children can make, bake, rake, stack, splash, dig, climb, swing, jump, ride and slide. All the things children do best!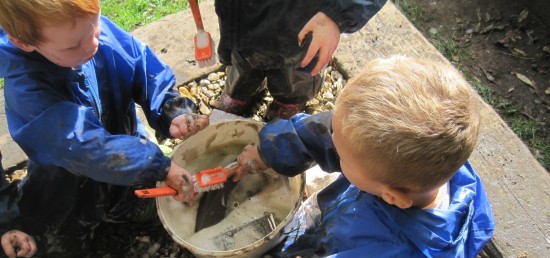 Our children have the opportunity to engage with the animals on our City Farm. We have found that being around animals is very therapeutic for the children. They build a unique bond with the animals which boosts their emotional health.

In our Eco Centre children are encouraged to explore and develop their understanding of our environment. They become immersed in the world of nature, enjoying activities such as finding different bugs and naming them, leaf printing and pond dipping. Our Eco Centre is a calming tranquil area where children are able to seek relaxation and listen to the soothing sounds of the swaying trees above.

Our traditional Adventure Playground provides a different range of sensory experiences and boosts our children's confidence and physical health by providing opportunities to run, jump, balance, climb and swing. We encourage our children to explore and take risks safely in a controlled environment. We believe very strongly in our children's right to play. Play is a child's natural way of learning about the world, themselves and other people. We know from experience that children need play opportunities that encourage exploration, adventure and enterprise, and having enough time and space for play increases children's health and happiness.
In our 2021 report Ofsted said:
"Children are confident, articulate and friendly. They enjoy participating in a wide range of activities available to them at this unique provision. For example, they learn about animal care at the on-site farm, nature and exploration at the ecocentre and managing risks on play equipment in the extensive outdoor area. Parents also appreciate how much these activities benefit all aspects of their children's development."
You can read the full report here – Ofsted | New Ark Play Association
We are very proud of the positive feedback we receive from parents, many of whom were once New Ark children themselves.
"New Ark offers children a unique and original opportunity to engage in outdoor and indoor play activities mixing with lots of different children in a safe environment with qualified and highly experienced staff. All the staff interact with the children at their own level and provide quality care for the children lucky enough to attend New Ark."
5 reasons to bring your child to New Ark Pre-School Playgroup
Staff – our trained Preschool staff believe in providing a caring environment that nurtures the individual needs of young children.
Space – we have fantastic play areas to run around in, including one of the largest adventure playgrounds in the region.
City Farm – every child is given the opportunity to feed and care for our animals in our City Farm.
Eco Centre – every child enjoys sessions in our wooded area, where our trained staff teach them outdoor skills and help develop an appreciation of ecology and the outdoor environment.
Recognition – the imaginative work of New Ark's staff has been recognised by both parents and Ofsted time and time again.