** Please see our latest statement about how the coronavirus pandemic is affecting New Ark at https://www.newarkplay.co.uk/new-ark-update-3-august-2020/ **
School holiday playground sessions run during most Peterborough school holidays matching the holiday dates of neighbouring Newark Hill Academy – dates listed here.  Sessions are aimed at school-aged children and activities available include:
Adventure play activities such as swinging, climbing and den building
Creative art and craft activities including woolcraft, batik and claywork.
Visiting the City Farm and helping to care for our animals
Daily special activities including outdoors cooking, water slides, baking, painting, and lots of messy play.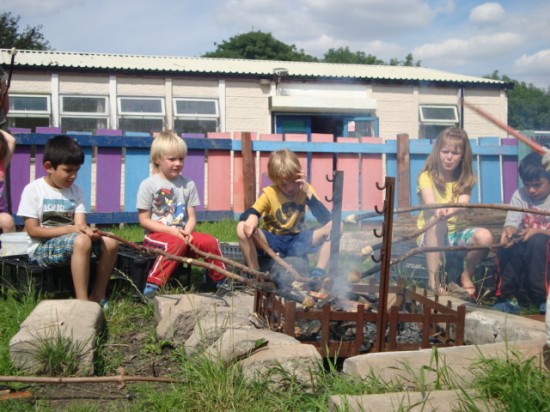 Many parents are seeking regular childcare during the school holidays, and to accommodate this we offer two types of holiday registration.
(If you wish to come to New Ark as an occasional visitor see here.)
Registration 1
Allows the child to attend any school holiday session between 10am-12pm and 2-5pm.
Additional childcare is available before 10am, between 12-2pm and after 5pm. It is charged per hour/per child and must be pre-booked.
A registration fee is paid in the Spring, Summer and Autumn which varies according to the number of children in the family.
Registration 2
Allows the child to attend pre-booked half day or whole day sessions
Half day sessions cover either 8.30am-1pm or 1pm- 5.30pm.
All day sessions cover 8.30am-5.30pm.
There is a one-off admin fee per family, due every July.
If you are not sure which type of registration would work out most economical for your circumstances, call us on 01733 340605.
If our fees prevent your family from accessing New Ark, please do talk to a manager in confidence.
Want to register?
If your children are new to us, please call us to arrange a visit before you decide to register.
Holiday registration forms are available below, or you can collect a paper copy from our playground office. Please complete and return it with a cheque made payable to "Newark Play Association Ltd" for the correct number of children. To avoid queuing during the first few days of the school holidays, we recommend that you pay your holiday registration fees before each school term ends.
School Hols Joining form Registration 1
School Hols Daycare booking Registration 1
School Hols Joining form Registration 2
School Hols Daycare booking Registration 2
Important information
All of our sessions must be pre-booked a week in advance (not on the day) so we can ensure appropriate staffing levels. Unfortunately we cannot give refunds for places that have been pre-booked, if cancelled.
You will need to provide a packed lunch if your child is attending over the lunchtime period, and have them wearing appropriate outdoor clothing and sturdy shoes. Please remember to send a sunhat/suncream, something warm/rainproof. and possibly a change of clothes. Children spend a lot of time outdoors in the adventure playground/city farm, and we do lots of messy play activities.
Our playground information sheet answers many common queries about attending New Ark.