New Ark parent and toddler group meets Wednesdays 1-3pm during term time.
We are a social group for parents and children aged 0-4.
Includes access to the whole eco centre, gardens and city farm area
Come dressed for outside play – the eco building is always open for indoor play.
Please supervise your child and show him/her how to take care of our plants and animals.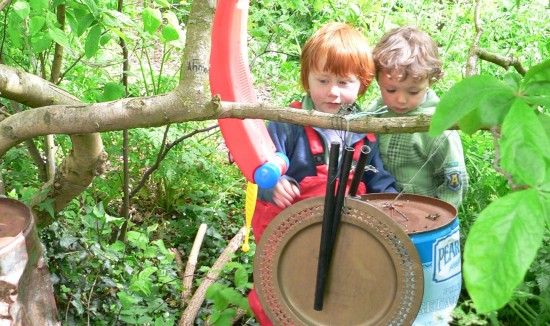 The children learn to play together and are able to use the special equipment in our Eco Centre and gardens. From 2pm our City Farm is open and you can visit the animals and perhaps even buy some eggs if our ducks and hens are laying.
To get to our Eco Centre head down the slope towards our main building and enter the gate to the right. Please bear right and pop into our eco centre building to say hello before going to play in the woodland area or visit the farm.
School holidays
During school holidays parents are welcome to bring their under 5s to join in with our playground sessions and visit the farm. These run Monday-Friday 10am-12 and 2-5pm, there is a small charge, and parents must stay to supervise their under 5s at all times. We suggest that you call us on 01733 340605 before setting out, to find out what playground activities are planned and check that the farm is open (it is usually, but may have to close on very hot days or if we are short staffed).