Masquerade Ball by Vixstar Events
The Masquerade Charity Ball will be hosted by Vixstar Events at the Holiday Inn West in Peterborough on Saturday 30th September, in aid of Von Hippel-Lindau (VHL) Disease and New Ark Play Association.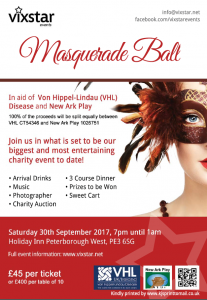 Tickets cost £45 each, or £400 per table of 10 seats. Local businesses and organisations can sponsor a table and receive further discounts.
* Arrival Drinks
* Music
* Photographer
* Charity Auction
* 3 Course Dinner
* Prizes to be Won
* Sweet Cart
Full event information www.vixstar.net
To reserve your tickets, please contact Charlotte at New Ark on 01733 340605 or message through Facebook www.facebook.com/newarkplay.
Vixstar Events is a small group of volunteers who organise events and activities where all profits go to charity. 100% of the proceeds for this event will be split equally between VHL and New Ark Play.