Our monthly Nature and Nurture Café is an exciting new project for all families to attend FREE which uses books and play to support children's learning and education. First we tell a story in a sociable group setting, and then we lay on some activities which are based around the story. We also give parents useful information to take home.
In our first Café we used our farm building to tell the story of Mrs Wishy Washy. Then we played with farm animals and Goop, followed by water play to wash them.  We gave information to parents to take away around hand wash and importance of hygiene.
Thanks to our volunteers Sarah Guest and Laura Anderson for your time in making this event successful.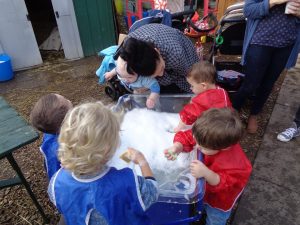 Our next Nature and Nurture Café is on Wednesday 23rd November and our story will be Elmer and The Lost Teddy. We are asking the children to bring in a bedtime teddy to hide in our Eco garden, and will be giving information to parents around routines of bedtimes.
Places are limited. For future dates or to book a place please contact laura_newark@hotmail.com or call Nikki on 01733 340605.
We are proud to be part of the Cafés for All project, providing an informal, sociable setting where families learn and share knowledge, information and skills. For more information about the project see http://www.cafesforall.org.uk/