Update – we raised £2437.31 at our fete and the history boards were well received. Thank you so much to everyone who contributed to the day. For a full list of raffle prize winners please scroll down to the bottom of this page…
Sunday 9th June 11am-3pm
Explore New Ark's past at our fun-filled day. We'll have lots of retro activities, including open-air cooking, homemade dens and classic outdoor games.
At 12pm we'll unveil our new history boards, designed by local artist Laura Barnard and funded by Vivacity.
Also stalls, refreshments, a car boot sale, and old favourites such as adventurous play and the city farm.
Bring your friends and family—everyone welcome. Entry by silver donation
This event is supported by Vivacity Peterborough Arts
NB Please get in touch on 01733 340605 if you want a pitch on our car boot sale, or can volunteer with preparations or on the day.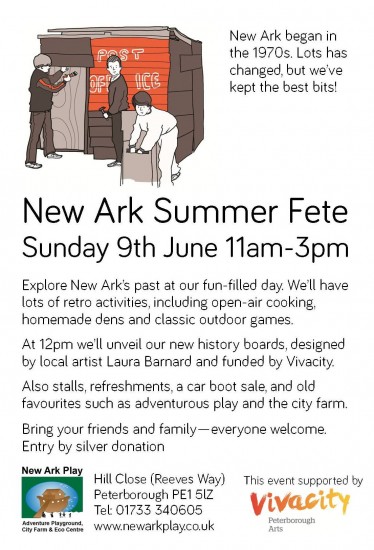 Summer raffle
Update – list of winners in our Summer Raffle draw:
£100 vouchers donated by John Lewis – L. Smith
£60 New Ark voucher – R Agudo
2 lessons from D J Wilson Driving School – J Dunkley-Locke
Nene Valley Railway Family Pass – M Kemp
Tenpin Bowling voucher donated by Lakeside Superbowl – P Lanning
Cut and Blow Dry voucher donated by Headmasters Hairdressers – A Mountford
£25 Co-op Food Hamper donated byCo-operative Anglia Regional Society – W Wright
Afternoon tea at Andronicas – Ethan
£20 Ultimate Performance Voucher – C Griggs
Big Sky Family Day Pass – A Roberts
Activity/ Toddler World Voucher – S Bines
Skateboard – R Blakemore
Girl's Roller Skates – H Durcam
Picnic Hamper with Accessories made by Sheila Thompson – R Blakemore
Shower Hamper made by Sheila Thompson – V Sargent
Bath Hamper made by Sheila Thompson – C Davitt
£10 M&S gift card – R Elliot
Teddy Bear from Co-operative Anglia Regional Society – T Moat
Bottle of White Wine donated by Julia and Mike Greene – M Spriggs
Bottle of Red Wine donated by Julia and Mike Greene – M Roberts
Bottle of Sparkling Perry – C Welch
Box of chocolates – Zoe